Healthy hikes

Hiking is the best way to discover the beauty of Costa Rica. While walking through nature, you will find things you would never have seen while flying, driving, or running. We guess you came to Costa Rica for nature in the first place. So, walk in peace and open your senses, and you will be amazed. And besides that, it is very healthy, it clears the mind and cleans up the body toxins. We offer some excellent trails.
Enjoy and conserve
As you walk through the trails and the primary forest, please take your time to spot tropical birds, butterflies, and other wildlife. You will also have the opportunity to appreciate the countless variety of flowers, plants, trees, branches, mushrooms, rocks, and mosses. Feel free to take pictures of it, smell it, memorize it, but under no circumstances touch it, take it, or disturb it as there are many more fellow visitors coming soon who also want to enjoy all that beauty.
Thank you for your understanding.
We do offer the regular trails in Catarata Del Toro (see Trails) or the walks in the Blue Falls of Costa Rica (see Blue Falls of Costa Rica), but perhaps you are looking for something else.
Rappel trail
At Catarata Del Toro is a third trail that leads you to the rappel section. But for security reasons, we closed this permanently, as you end up at the edge of the 90 meters drop without a fence. If you want to go, ask permission, and maybe we will let you go. The duration is only 5 minutes and very easy to walk.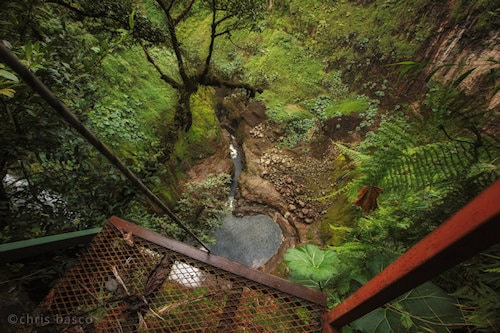 Other hikes
Instead of hiking the regular trails, perhaps you want another experience? Just straight through the forest and rivers and maybe some rappelling included? Ask us, and if we have a tour guide available probably, we can arrange something, the charge will be by the hour.
In the area, other specialized tour guides offer many hiking opportunities. You can think of trails going to the Poás, into the national park Juan Castro Blanco, Cerro Congo, and others.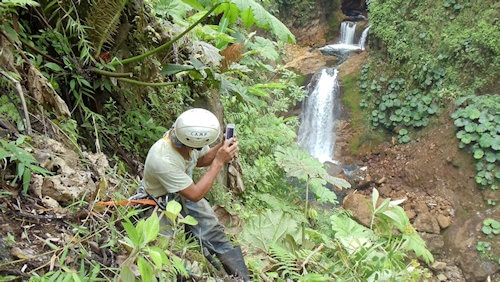 Hiking to Poás
We cannot offer this tour anymore since the manager of Poás Park has notified us. He does not allow us to come to the edge of the crater anymore, so we won't. The tour was a walk of seven hours total, four hours up, and three hours down. If you ever make this tour one day, you will never forget it. The pictures are just for illustration purposes only, and to show you the beauty.
If there is any interest in the different hiking possibilities, please let us know, and we bring you in contact with the right persons.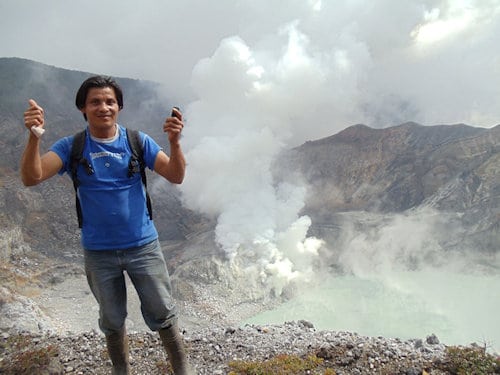 Chirripó
As our area is charming, and it is growing and developing in the right direction. We do not want to withhold you the best hike in Costa Rica: Chirripó! We did it, and we recommend it. More information about that hike: https://www.chirripo.org/, or if you want to get help with the booking process, hotels, please contact Ingrid Sancho at isanchow@gmail.com. She did an excellent job for us, and if you desire to have a private tour guide who will bring you up, no matter what, please ask Ingrid Sancho to contact Gilbert Dondy for you.