Restaurant
Open-air restaurant
All our clients like the setup of our open-air restaurant, even that it momentarily does not serve as a full restaurant. At this moment we use the restaurant more as a welcome area and in the end, you enter and finish the trails through the restaurant. But as an extra service to our clients we do serve coffees, natural juices cakes, cold drinks, fresh water, candy bars, once and a while we make hamburgers and panini's and lately, we even sell homemade ice creams which are really tasty. For a more extended meal we have to refer you to the nearby town. Actually, we are in a transit period with the kitchen and we have to see how and when we can bring a full service again, time will tell.
For those really in need for a big meal, please ask!
In the end most people like just to relax after the hike in a natural atmosphere and watching the hummingbirds, a big meal is secondary.
Hope to see you soon,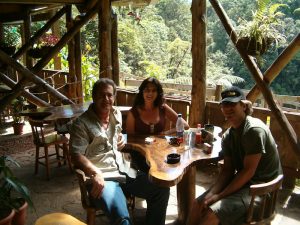 Groups
If you are planning to come with more than a few persons to do the trails and waterfall and want to have a hot meal, please contact us a few days before by phone or e-mail. We appreciate it anyway if you just inform us that you are coming with a group, so we can be prepared, even if no food is involved. For our hummingbird multi-flash clients, the lunch is complimentary. And for our room guest we will make a nice dinner if it is in our possibilities.