Trails
Walking
Walking is actually the best way to discover the beauty of Costa Rica. While walking through nature you will discover things you would never have discovered while flying, driving or even running. We guess you came to Costa Rica for nature in the first place. So, walk in peace and open your senses and you will be amazed. And besides that, it is very healthy, it clears the mind and cleans up the body toxins. We offer some nice trails.
Enjoy and conserve

As you walk through the trails of this primary forest please take your time to spot tropical birds, butterflies and other wildlife. Also, you will have the opportunity to appreciate the countless variety of flowers, plants, trees, branches, mushrooms, rocks and mosses. Feel free to take pictures of it, smell it, memorize it, but under no circumstances touch it, take it or disturb it. As there are many more fellow visitors coming soon who also want to enjoy all that beauty. Thank you for your understanding.
First trail of 350+ steps
The first trail is a self-guided tour all the way to the bottom of the most impressive waterfall of Costa Rica. Which is second to none in beauty and splendor. It throws itself 90 meters into an old extinct volcanic crater. First 500 meter of the trail is flat and has several fantastic lookouts. And second part is also 500 meters with steps with high impact. People with heart conditions or any other medical condition, older people and pregnant women should not go down. For the rest of the people they need to take their time coming back up. The 350+ steps are safe and partly made of concrete and it has several sitting areas and nice views.
Whoever takes the effort to go down will get the best waterfall experience of Costa Rica!
Summary
Duration: 90 minutes including the forest and garden trail.
Age: 4 – 75.
Weight: Medium.
Price: Included in entrance fee.
Reservation: Not needed.
While hiking down do not forget to look up once in a while. So, you can enjoy the rock formations of this ancient volcanic crater and all its colors. Probably you will also notice the special chemical composition of the water.
Note: If you have any questions about the age limits, please contact us.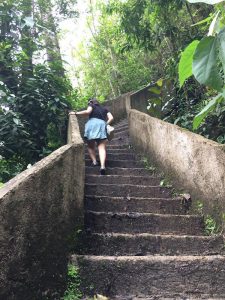 Hike to the forest and garden
The second trail leads you through the forest to the garden. This easy hike brings you to the edge of the crater from where you easily can spot the waterfall from different angles. Besides that, the trail goes through a primary forest with has some nice trees. And has also a spectacular view of the canyon and the national park. Make a walk in our ever-under-construction-bird-garden which its primarily purpose is to attract birds and other animals.
Therefore, we have been planting lots of fruit trees from the area which will attract numerous birds under which the Toucan and the Quetzal as the ultimate goal. Also, bananas for the monkeys and birds and bushes with flowers which already attracts hundreds of hummingbirds, heliconia's, etc. Soon we will make some extra seating areas from where you can enjoy the amazing views in peace.
Summary
Duration: 45 minutes.
Age: All.
Weight: Light.
Price: Included in entrance fee.
Reservation: Not needed.
We apologize that it is still unfinished but like all good things in live: it takes time, but it is coming up.